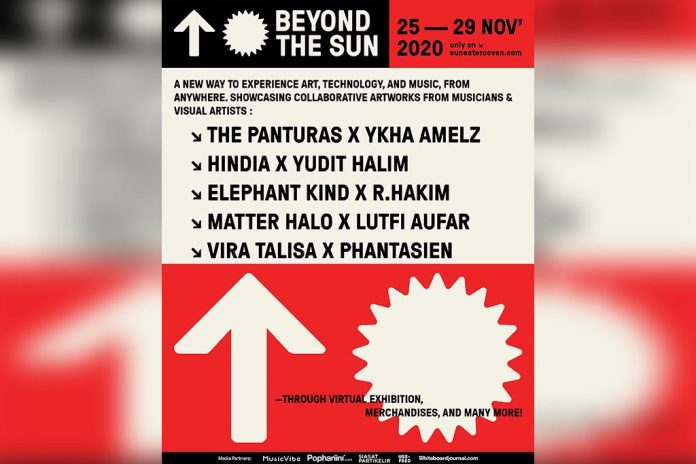 Menutup bulan November, akan ada banyak sekali keseruan-keseruan yang bisa kalian nikmati. Salah satunya adalah Beyond The Sun, sebuah event virtual persembahan dari Sun Eater.
View this post on Instagram
Digelar dari tanggal 25 November hingga 29 November mendatang, Beyond The Sun menawarkan sebuah eksperimen perpaduan antara karya seni, teknologi, dan musik.
Sebagai sajian utamanya, Beyond The Sun menyuguhkan lima kolaborasi yang mungkin belum pernah terbayangkan sebelumnya. Sebuah kolaborasi antara para musisi dengan nama-nama dari seniman visual.
Mulai dari Hindia dengan Yudit Halim, Matter Halo dengan Luthfi Aufar, Elephant Kind dan R. Hakim, The Panturas dan Ykha Amelz, dan juga Vira Talisa dengan Phantasien.
View this post on Instagram
Nantinya, kolaborasi-kolaborasi tersebut akan dibawa melalui berbagai konsep. Seperti adanya virtual exhibition, special merchandise, juga paket spesial yang akan diundi dalam sesi raffle. Tidak berhenti disitu, juga ada sesi talkshow dengan nama-nama yang sudah disebutkan sebelumnya.
Beyond The Sun sudah bisa kalian akses mulai tanggal 25 hingga 29 November ini, melalui www.suneatercoven.com.