Penggemar Raisa atau Rossa mungkin tidak kenal siapa dia. Namun bagi mereka yang sering datang ke konser underground, studio gig atau house party, atau bagi kamu penyuka Camera Obscura, Heavenly dan followers Kolibri Records, label pop independen asal Jakarta, pasti kamu bakal terkejut menemukan: Wah ada vokalisnya Grrl Gang!!
Anggeta Sentana, perempuan asal Jogja ini dikenal karena lagu-lagu kamar tidur semacam "Bathroom" atau "Thrills" yang ditulis dan dipopulerkannya bersama grup twee pop asal Jogja yang lagi hit saat ini, Grrl Gang. Dari Jogja, band ini melanglang buana ke kota-kota besar lainnya malah sampai ke negri seberang dari Kuala Lumpur, Singapura dan Manila.
Dan di rubrik 16 Pertanyaan Pop Hari Ini, kami sengaja menemui Angee untuk mengetahui lebih banyak tentang dirinya, dari mana ia bisa bersentuhan dengan musik dan lain sebagainya. Penasaran kan? Mari disimak.
Apa gitar pertama kamu?
I got the vintage Telecaster Thinline only this year, actually. Akbar showed me a picture of it as we were looking for guitars for me, and I immediately fell in love with it. It was love at first sight.
Kapan belajar gitar dan nulis lagu?
Aku dulu diajarin main gitar sama papaku waktu umur 12 tahun, kalo ga salah. As for songwriting, it just came out when I was 17 after I got dumped by my then boyfriend. So yeah, it just kind of…happened.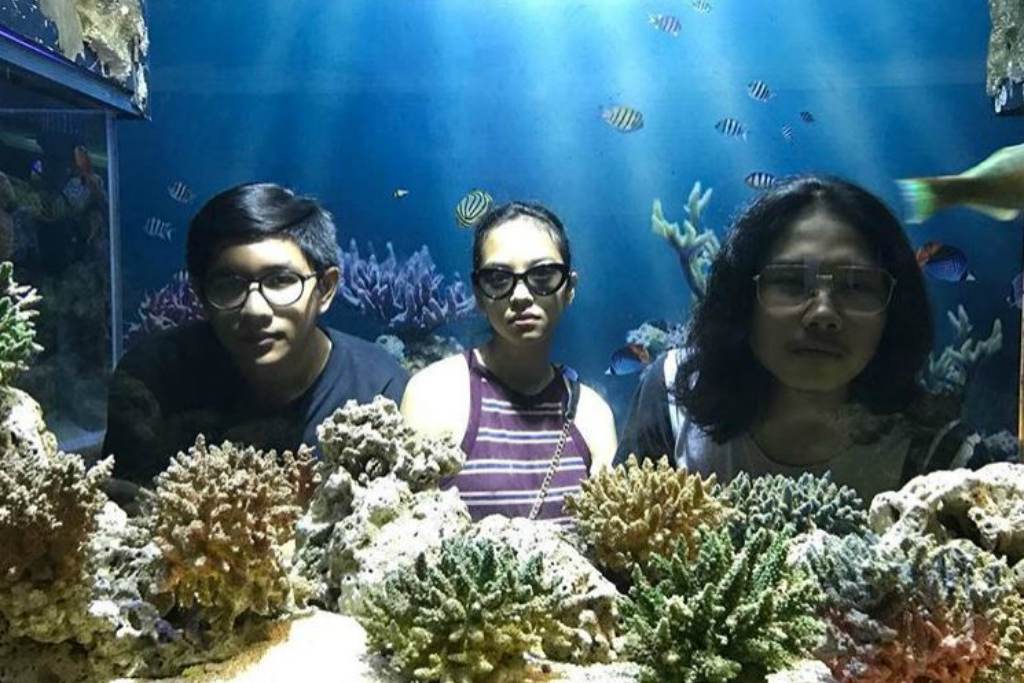 Apa 5 lagu band lokal yang lagi di dengar?
1. "Catching Pony" by Sugarsting
2. "Procrastinate Until It Does Make Sense" by Flowr Pit
3. "Azure" by Heals
4. "False 9" by Gizpel
5. "Superfine" by Skandal. I fuck with these song
Are a cat or dog person?
Aku lebih ke dog person sih, because they're super friendly and active! But I like cats too!
seberapa penting outfit kalo lagi manggung?
It's very important, because that's part of the "performance", in a way.
5 barang wajib kalo mau jalan?
Lipstick, dompet, kunci kosan, rokok sama korek api.
Apa yang bikin deg degan manggung pertama kali?
Apa ya…I guess it was because we only had three songs (I think) at that time.
Siapa musisi cewek indonesia yang kamu segani?
I respect and admire all Indonesian female musicians.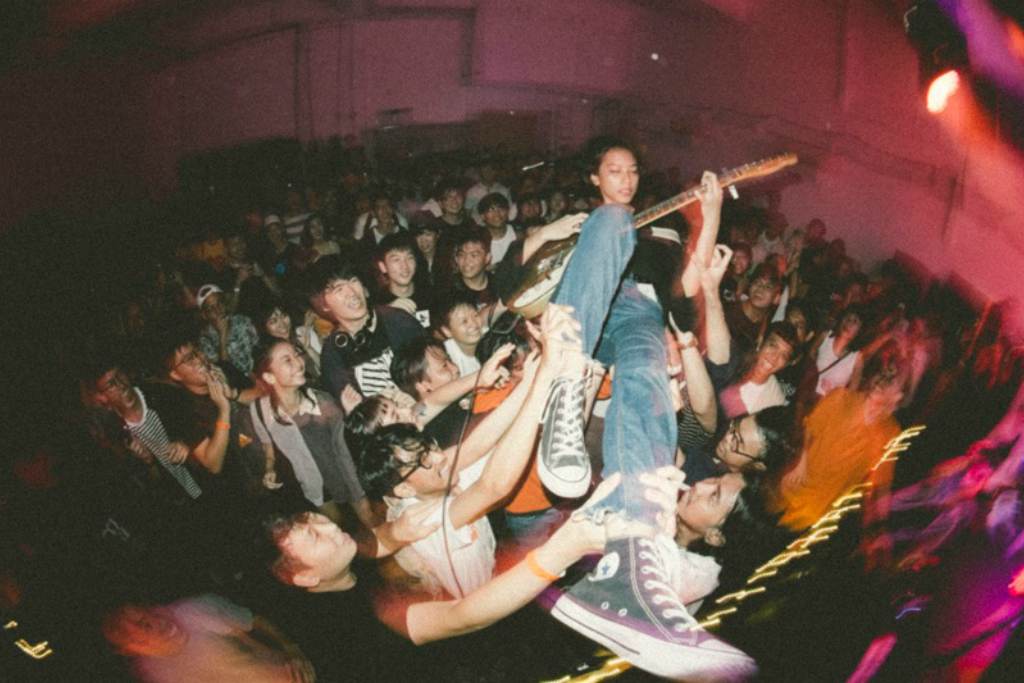 Siapa sih teen crush kamu?
My teen crush was Nicholas Saputra.
Apa buku terakhir yang dibaca?
The last book I read was "The Spy" by Paulo Coelho. I'm a big fan of Coelho and I keep seeing this book in Periplus, but I finally had the chance to pick it up after a really hectic school semester.
Ritual sebelum manggung?
Does saying, "I'm so nervous," every time before going on stage count as a ritual? Hahahah…
Manggung paling buruk?
Paling waktu di catcall in two separate shows, but I'm kind of tired of talking about it.
Punya lagu indonesia favorit tentang diputusin cowok?
Hahahah ga punya…
Film indonesia paling keren sepanjang masa?
Ada Apa dengan Cinta is probably the most iconic Indonesian film of all time. I loved it so much as a kid and I memorized the choreography with my neighbors.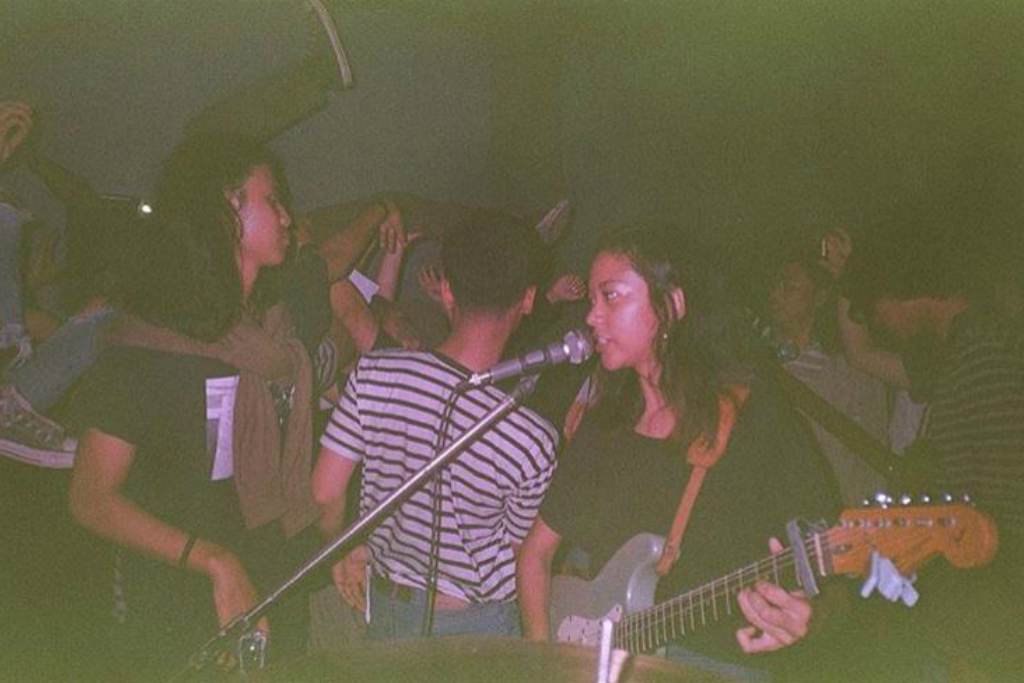 Kepeleset atau kepentok?
Mending kepeleset sih, in my opinion, because it's more bearable.
Lupa bawa pick atau senar putus?
Mending lupa bawa pick, because then I could borrow someone else's.